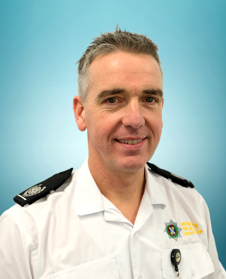 Barry Moore is the Area Manager for Operational Preparedness at Merseyside Fire and Rescue Service.
He joined the Service in January 1993 and has over 28 years' experience working across a number of roles and Directorates gaining vast experience of the fire sector.
Barry moved into the senior management team in 2009 as a Station Manager in the Operational Performance Team managing a number of Community Fire Stations across the county before moving into Operational Assurance and then Service Delivery.
Promoted to Group Manager in 2015 he had responsibility for Health & Safety and Operational Assurance and then went on to manage the Training & Development Academy as the Operational Training Manager.
Barry was promoted to Area Manager in July 2021 and is now responsible for Operational Preparedness. He oversees a number of departments that provide operational firefighters and senior officers with training, information, procedures and equipment to ensure they can safely and effectively resolve all emergency incidents. Barry's directorate is also responsible for assessing all foreseeable fire and rescue related risks that could affect our communities, whether they are local, cross-border, multi-authority and/or national in nature. This includes everything from fires to terrorist attacks.
Barry also oversees arrangements that are put in place to prevent and mitigate risks identified on the Community Risk Register. This is done through adjusting existing provision, effective collaboration and partnership working, whilst ensuring business continuity arrangements are in place in accordance with the Service's duties under the Civil Contingencies Act 2004.
During his career, Barry has worked on a number of key deliverables to support the local IRMP and with the impact of the COVID pandemic; he has been an advisor to the National Fire Chiefs Council which has enabled the additional work activities, such as vaccination centres and mass testing, to be delivered across the UK.