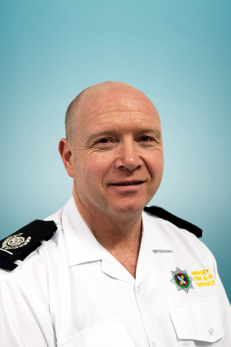 Gary Oakford is the Area Manager for Operational Response at Merseyside Fire and Rescue Service.
He joined MFRS in 1992 and has served at a number of community fire stations.
Since 2003, Gary has worked in a range of operational and functional roles including as a Watch Manager with the Incident Management Team, Crosby and Bootle & Netherton Community Fire Stations, and the Operational Equipment Team.
He then became Station Manager for the St Helens District and Community Fire Safety, before being promoted to Group Manager within the Knowsley District, Prevention and most recently as the Operational Training Manager.
During this time Gary led and delivered a number of key objectives on behalf of the Service and has supported the wider fire sector by supporting the Chief Fire Officers' Association at the All Parliamentary Group for carbon monoxide. He also completed a number of Local Government Association Peer Challenges at London Fire Brigade and Wolverhampton County Council for equality and diversity. Gary also led on the acquisition of two Atlantic 75 inland rescue boats for the Service's Marine Rescue Unit.
In 2019, Gary was promoted to Area Manager. He is now responsible for Operational Response. He is responsible for the service delivery of the operational fire stations across the county, Health & Safety and Operational Assurance.