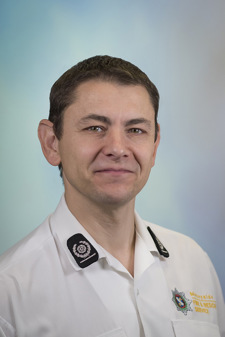 Guy Keen is the Area Manager for Operational Response at Merseyside Fire and Rescue Service.
He is responsible for the service delivery of operational fire stations across the county, Operational Assurance and Health and Safety.
During his career, Guy has held a wide variety of positions including Sporting Events Director, Liverpool 2008 World Firefighters Games, Head of Threat Response Group (joint Police-Fire Taskforce), Head of Protection and Director of Performance and Values.
In his previous role as Area Manager, responsible for Prevention and Protection, Guy was active on a number of National Fire Chief's Council (NFCC) workstreams, including vice-chair of the NFCC Protection and Business Safety Committee responsible for the business as usual work conducted by the committee. Guy has a significant track record of national working on NFCC Committees including leading on the projects for 'Engaging Diverse Business' (Protection) and the 'Home Safety Toolkit' (Prevention) and sitting on the National Waste Fires Group.
Guy is an active member of the Institution of Fire Engineers and has served on the international examination marking team (2007–15). He was awarded Fellowship of the Institution in 2013 and is currently the Chair for the Merseyside IFE Group. Guy has a master's degree in Public Sector Leadership (Anglia Ruskin University) and has successfully completed the Fire and Rescue Service Executive Leadership Programme.