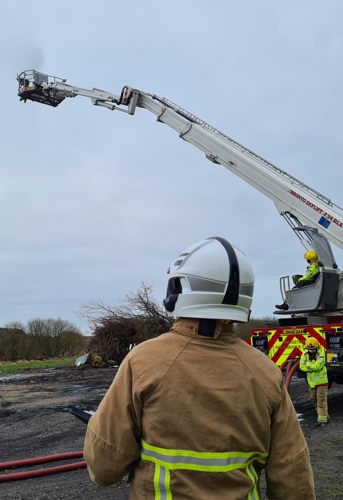 Role: Station Manager
Salary: £47,712 (in development) to £51,525 (when competent) + 20% flexible duty allowance.
Merseyside Fire & Rescue Service is a bold forward thinking Authority looking for highly motivated, innovative and talented individuals to shape our story, contributing to public service reform in order to save, protect and improve the lives of the people in Merseyside.
Crucial to the role will be your ability to lead collaborative approaches with partners in order to deliver an integrated and effective service to our communities - to help ensure their safety, improve the region's health and economy and deliver significant social value, thereby ensuring the highest level of protection is afforded to the communities we serve.
You will be expected to demonstrate exceptional leadership skills and the ability to inspire and maintain outstanding performance from others
You will have a demonstrable ability to lead change in a complex and evolving environment
You will have excellent communication skills and an ability to engage constructively with internal and external stakeholders
You will have demonstrated high levels of ability with regard to the implementation and management of key projects
You will model our values and behaviours; promoting a culture which embraces collaboration, inclusivity, high performance and wellbeing, and you will strive to make a real difference to the communities we serve
You will be required to manage and lead operational incidents as Incident Commander, or in other incident command support roles in accordance with the requirements of EFSM2 and local standard operating procedures
OUR LEADERSHIP BEHAVIOURS
Our Managers are inclusive, servant leaders, adopting a coaching style where appropriate.  Our Leadership Behaviours for Middle Managers outline how we act and the difference we make to the people around us. 
Personal Impact

Set standards of behaviour in line with Service values and behaviours.

Role model and mentor others in how they communicate and engage to encourage inclusion.

Provide a visible presence and recognise the contribution of others.

Outstanding Leadership

Work internally and externally

to set clear work and objectives,

actively monitoring the performance of the team and giving positive developmental feedback.

Accountable for the output of my teams and devolve responsibility for work to the appropriate level.

Nurture future talent and proactively plan for succession.

I look for opportunities to coach,

mentor and support people outside of my teams.

Service Delivery

Take a business-like broad

approach that considers how to

achieve better outcomes for

communities.

Monitor the quality-of-service

delivery and share information

so that people know how well we

are performing and plan accordingly

Seek out opportunities to work

collaboratively across teams and

functions to improve service

delivery.

Org. Effectiveness

Aware of wider organisational and political priorities and how my function contributes more widely.

Actively seek to understand the nature of risk in various projects and act to mitigate those risks or report them.

Apply latest business processes & not settle for the status quo.
JOIN THE TEAM

If you're interested in joining Merseyside Fire & Rescue Service and playing your part in our story, apply online through https://recruitment.merseyfire.gov.uk/wrl/ before the application deadline of midnight, Sunday 27th August 2023.
Detailed role information, including the Person Specification and Job Profile documents, can be found in the candidate pack below. For further information about the role please contact John Price on 0151 296 4323 / 07738 604 929 or johnprice@merseyfire.gov.uk / gateway@merseyfire.gov.uk 
ELIGIBILITY
Candidates must have experience of operating in the Watch Manager role within the last 12 months. 
Applications from candidates, who are not currently employed by a Local Authority Fire & Rescue Service within the UK, will not be eligible to apply.
THE SELECTION PROCESS
Shortlisted candidates will be invited to attend a multi stage selection process (comprising of Command Assessment, Presentation and Interview) aligned to the requirements of the Station Manager role. It is anticipated that these stages will be conducted between 18th – 29th September 2023.
On appointment, candidates will undertake an induction and development programme tailored to their experience and competencies to support their transition.