Date:
Location: Bidston, Wirral
Firefighters are currently in attendance on Worcester Road, Bidston.
Crews were alerted at 12.41pm and on scene at 12.47pm. Five fire engines are in attendance at an allotment where multiple sheds are ablaze. 
Residents nearby should keep doors/windows closed and medicines nearby - if any ill effects are experienced dial NHS 111 for advice.
UPDATE - 14.24
Our crews are fighting a fire of allotment buildings approximately 20m x 50m. The incident has now been sectorised. Sector 1 with 2 main jets and 1 hose reel, sector 2 with 1 hose reel and sector 3 with 1 main jet and 1 hose reel.
Fire is now surrounded, area involved measures 25m x 25m, consisting of a number of sheds and allotments.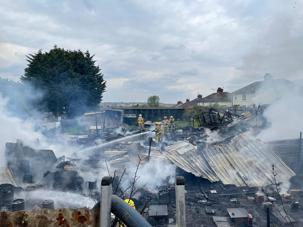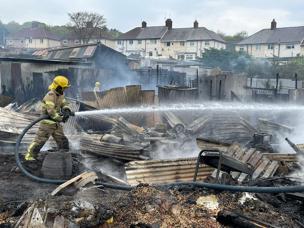 UPDATE - 15.10
Crews are utilising 2 main jets to dampen down in sector 1. Sector 2 there are 2 hose reel jets in use to dampen down, while an extended hose reel and 1 main branch is in use to dampen down in sector 3.
UPDATE - 15.23
Crews in fire sector 1 are dampening down using 2 main branches. Crews in sectors 2 and 3 are making up equipment as the incident begins drawing to a close.
Sadly it is believed up to a hundred pigeons perished or escaped the coop as a result of this fire.