Defibrillators have been fitted to the outside of every fire station across Merseyside, making the potentially life-saving devices freely available for use by the public in the event of a cardiac emergency.

A total of 25 community public accessible defibrillators (CPADs) have been installed on all of Merseyside Fire & Rescue Service's (MFRS) community fire stations, as well as its Marine Rescue Unit at Liverpool Pier Head and outside Service Headquarters in Bootle.

Defibrillators deliver a high energy electric shock to someone suffering a cardiac arrest and help to restore a stable heart rhythm. Studies show that when someone goes into cardiac arrest, a shock given within three minutes provides the best chance of survival.

The rollout has seen MFRS work closely with North West Ambulance Service and will mean anyone going into cardiac arrest nearby will have a better chance of survival.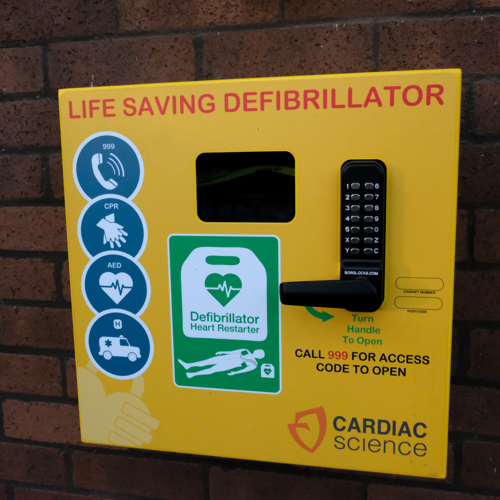 Chief Fire Officer Phil Garrigan said: "As a fire and rescue service, we are in the business of saving lives and these devices do just that. They are safe and simple to use and could potentially save a member of our community's life.

"We are extremely proud to say that every single one of our fire stations is now home to one of these potentially life-saving pieces of equipment and that any member of the public can access them should they need to."

Eccleston Councillor Michael Haw, who actively campaigns for defibrillators to be installed in public places, added: "I am delighted that community public accessible defibrillators have been installed on all of Merseyside Fire & Rescue Service's fire stations, including Eccleston Community Fire Station.

"The defibrillators will serve as an important safety asset for the local community as medical help is not always on hand in an emergency, so having quick access to a device can make all the difference."

The defibrillators have been placed in a clearly marked cabinet on the exterior of all MFRS' community fire stations. Each station is also a designated 'Safe Haven' where any member of the public – including children and young people – can go if they feel unsafe in any situation.

They also provide individuals with the opportunity to report hate crime and/or domestic violence.

CFO Garrigan added: "We want people in our communities to know that their fire stations are a place of safety, not just in the event of a cardiac arrest when they need to use one of the defibrillators, but in any situation where they are feeling vulnerable, at risk or feeling under threat from harm.

"Our fire stations are welcoming and friendly places in the heart of the community, making them the ideal locations for Safe Havens and for publicly accessible defibrillators."

Safe Havens are easily identified by an illuminated 'Safe Havens' sign that can be clearly seen at night. If firefighters are not on station, people can still call for assistance for an emergency situation by using the yellow station phone located on the front of the buildings.

Anyone needing access to a defibrillator installed at one of MFRS' fire stations should dial 999 to gain access and follow the instructions given by the device.

For free fire safety advice, or to request a home fire safety check, call 0800 731 5958.

Merseyside Fire & Rescue Service also provides free smoke alarms for Merseyside residents aged 65 or over.