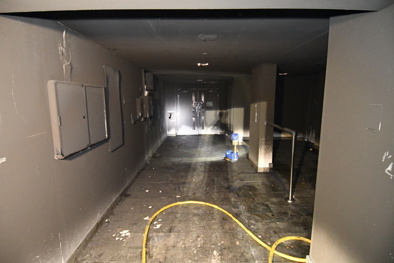 Merseyside Fire & Rescue Service (MFRS) is highlighting the dangers of fires involving Christmas trees and the importance of keeping escape routes clear following a fire in a high rise property this week.
Four fire engines and an aerial appliance were sent to Marwood Towers on Boundary Street East, Everton, shortly before 10pm on Wednesday 16th December.  
On arrival, crews found a fire involving a Christmas tree in the main entrance hall. Thankfully no one was injured in the fire, believed to have been started deliberately, but it could have had fatal consequences.
Following the incident, MFRS is urging residents to ensure escape routes and shared corridors, such as those high rise buildings, flats and sheltered accommodation, are kept clear from all combustible materials.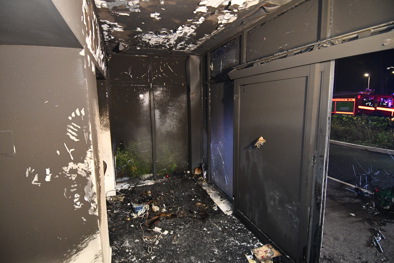 MFRS Station Manager Phil Byrne said: "These images really bring home the dangers that can be caused by a fire involving a Christmas tree. Whilst we wish all residents of Merseyside to celebrate Christmas, we of course want them to remain safe.
"Residents, particularly in buildings that share escape routes and corridors such as high rise buildings, flats and sheltered housing should ensure ALL escape routes are kept clear from all combustible materials including Christmas trees.
"In the event of a fire these routes are vital to ensure all residents can get out safely.  Any fire in these areas can compromise this escape and endanger lives."
Those decorating their homes with a Christmas tree should:
Only use lights and decorations with the correct safety standard markings
Keep naked flames and candles away from Christmas trees and other flammable items such as curtains and furniture
Turn off lights at night and when leaving your property
If using a real Christmas tree, water it regularly to stop it drying out
Have a working smoke alarm on every floor level of your home and test it.
For those with fire safety concerns or requiring fire safety advice, please call Fire Service Direct on 0800 731 5958