Users of the River Mersey and wider Estuary can take comfort in the knowledge that they will now be protected by Merseyside Fire & Rescue Service's (MFRS) two new state-of-the-art rescue boats – the Mersey Grace and the Mersey Brave.

The two Atlantic 75 rescue boats – acquired from the RNLI – were unveiled as part of the River Festival on Sunday 2nd June.

Festival goers watched on as Senior Officers from MFRS were joined by Lord Mayor of Liverpool, Cllr Brennan, and representatives from the RNLI for the official naming ceremony of the two boats.

The operational call signs of the boats will be Marine Fire One and Marine Fire Two, but they will also carry the names of The Mersey Grace and The Mersey Brave, names chosen by pupils from St Oswald's CE Primary School in Netherton. The naming of the boats came after a fierce competition with Merseyside primary, resulting in a longlist of more than 100 names.

Chief Fire Officer, Phil Garrigan, said: "We were delighted with the number of entries we received as part of our primary school competition to name our new Atlantic 75 rescue boats. We were genuinely impressed with the creativity and inventive nature of all of the names suggested but unfortunately we could only choose two."

The boats will operate from MFRS' Marine Rescue Unit – a floating rescue station situated at the Mersey Ferry Terminal – which MFRS took over responsibility for in 2005. It provides a 24/7, 365 days a year emergency response to the River Mersey and has an operational area which extends 60 miles of Liverpool, Wirral and Sefton coastline.

The MRU is the third busiest lifeboat station in the UK and has attended more than 4,500 incidents since its inception and has assisted more than 2,000 vessels in difficulty or distress, as well as rescuing 3,500 people.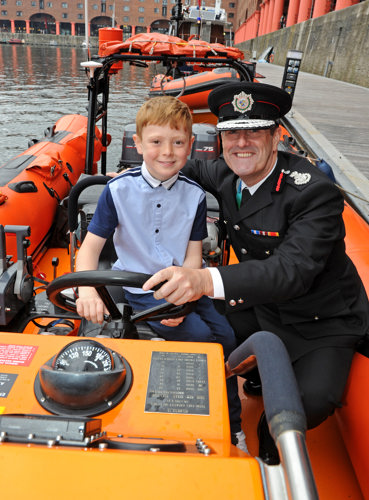 CFO Garrigan added: "The MRU plays a pivotal role in keeping our community safe, particularly those using the River Mersey for leisure or work. Our crews work closely with our colleagues from the RNLI and HM Coastguard to ensure the safety of those who find themselves in trouble, both on the river and in the surrounding area.

"Our partnership with the RNLI is closer and stronger than ever before and we are extremely grateful to them for allowing us to take on the ownership of these boats and for the training and kit they have provided. The speed, manoeuvrability, agility and versatility of the Atlantic 75s will aid our crews greatly, ensuring the effectiveness of their search and rescue activities."

Peter Rooney, RNLI Area Lifesaving Manager, said: "We are thrilled to be working so closely with MFRS and the naming of the A75 lifeboats is the culmination if an exciting project to enable our lifeboats to continue their essential lifesaving work.

"We are thrilled these excellent rescue boats are being put to good use in the River Mersey and are delighted they are being operated by such a professional team."

The Atlantic 75, a B Class lifeboat, is one of the fastest boats available with a top speed of 35 knots powered by two 115bhp 4-stroke engines.

CFO Garrigan concluded: "To unveil our new boats to the community as part of the River Festival was a great way to formally introduce the vessels to the water. We are extremely grateful to the Lord Mayor, Culture Liverpool for allowing us to be a part of their festivities and of course to pupils from St Oswald's CE Primary School for putting forward such fitting names.

"The Mersey Grace and the Mersey Brave will now begin their mission protecting the River Mersey."