The latest member of Merseyside Fire & Rescue Service's (MFRS) urban search and rescue team (USAR) has completed his first official mission, less than two weeks after becoming a fully-fledged search & rescue canine.

18-month-old cocker spaniel Scout officially went on the run on Monday 2nd December, after he and handler Niamh Darcy – a USAR Technician with MFRS – passed their USAR Search Dog Team assessment in Lincolnshire on 28th November.

After a week getting to grips with life as an accredited search and rescue dog, Scout was called to the frontline when a building collapsed in Garston.

Two fire engines were sent to the scene on Brunswick Street on Monday 9th December - as well as the search and rescue appliance – where a 4m x 25m wall had collapsed due to strong winds. Scout was tasked with searching the rubble to ensure no one was trapped or injured, with all persons found to be accounted for and safe.

Funded by National Resilience, Scout and Niamh had to complete a rigorous training programme before becoming fully accredited. This included basic obedience, agility, stamina and, of course, searching for casualties.

The National USAR grading, held at Lincolnshire Fire & Rescue Service, consisted of two different scenarios, each with full incident command where Niamh's input was also assessed.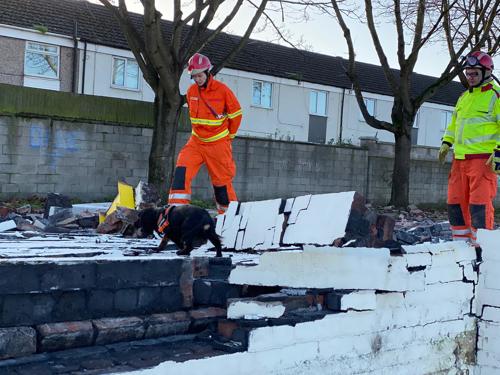 Niamh, who has more than 15 years' experience at MFRS, said: "I've been training Scout since he was a puppy and I'm incredibly proud of him for achieving his accreditation. He is a young dog and how he performed on the day and on Monday on his first operational search shows he's maturing nicely and thoroughly enjoying his working role."

Training Scout would not have been possible without the support of the entire Search & Rescue Team, based at Croxteth Community Fire Station.

During the training process, team members acted as casualties, hiding in various locations across MFRS' Training & Development Academy, including inside buildings, under rubble and in barrels.

Now a fully qualified UK asset, Scout and Niamh could be deployed anywhere in the country, as well as locally.

Niamh added: "Scout also passed his Association of Chief Police Officers (ACPO) licence for open searching in September, meaning he is licenced to search open areas for missing persons. This is particularly useful in more rural areas where he can cover areas very quickly."