Water Safety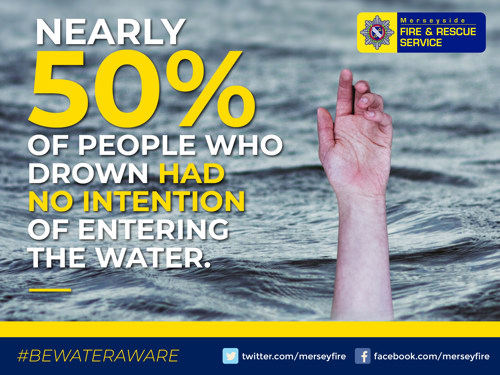 Drowning is one of the leading causes of accidental death in the UK.
We want to make people safer by making them aware of the risks and dangers when around water, what to do if they fall into water and how to help someone who is in trouble in water.
Every year, we hold a week of water safety events across Merseyside to demonstrate the dangers of water, how we rescue people from water and how people can stay safe in and around water.
Follow these important safety tips near water:
• If you are going for a walk or run near water, stick to proper pathways and stay clear of the water's edge
• Avoid walking or running near water in the dark, if it's slippery or in bad weather
• If you've had alcohol or drugs don't enter the water; avoid walking alone and avoid routes near water
• Don't enter the water to try to help a person or animal - always call 999 and use any water rescue equipment if it is available
• If you are spending time near water - whether at home or abroad - make sure you are familiar with local safety information
We have a specialist water rescue team based at the Marine Rescue Unit at the Pier Head, Liverpool.