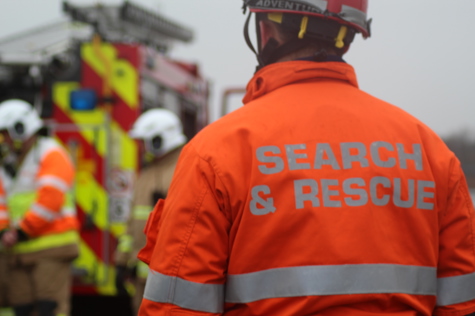 Merseyside Fire and Rescue Service has an Urban Search and Rescue (USAR) team of highly-trained personnel who respond to support operational crews in incidents such as road traffic collisions, water rescue, rope rescues, incidents on mud/ice, large animal rescue and confined spaces. The team respond on fire appliances which carry specialist equipment for the variety of incidents they respond to.
In addition, the Merseyside team is one of a number that make up the national USAR capability which means they can be called upon to respond to incidents involving large-scale building collapse and/or accidents involving aircraft, railway rolling stock or heavy good vehicles anywhere in the country.
The team is provided with a dedicated number of vehicles and modules that carry the equipment required to provide such a response; these vehicles are the same in the other Fire and Rescue services that host a USAR team. This means that personnel from a variety of different Fire and Rescue services can operate effectively together regardless of the location.
As well as providing national response across the UK, some members of the Merseyside USAR team also provide support at incidents such as earthquakes, tsunamis and large-scale flooding anywhere across the globe as part of the United Kingdom International Search and Rescue (UKISAR) team.