Merseyside Fire & Rescue Service's oldest surviving former Firefighter relived his pass-out when he was presented with a restored axe by the Chief Fire Officer at the Service's Heritage Centre.

Thomas Beevers, 102, who grew up in Bootle and now lives in Maghull, originally received the axe in 1950 when he passed out from his recruit course.

When the great-great-grandfather attended MFRS' pass-out parade in April 2019 as an invited guest, he told the Chief Fire Officer about his axe but mentioned it had rusted in his shed.

The Chief offered to have it restored at MFRS' workshops and Thomas, known as Tom, said MFRS could keep the axe in the Heritage Centre.

However, it was decided to surprise Thomas by returning the axe to him – rust-free and newly mounted on a plaque made from salvaged mahogany from Croxteth Fire Station along with original cap badges from Warrington and City of Liverpool.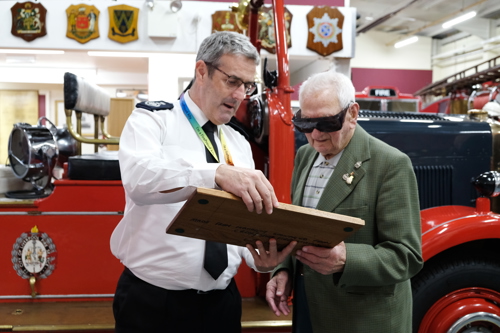 Before the surprise presentation, Thomas enjoyed a tour of the centre which included looking at a collection of historic vehicles and photos, reminiscing about his time with the Service and enjoying afternoon tea.

He also climbed up into the driving seat of a 1931 Leyland Metz turntable ladder engine which is on display in the centre – the very same engine he had operated during his firefighting career.

Thomas said: "It's been a great day, remembering the old times - and the axe is fantastic. It was sitting in my shed and got so rusty… It's not rusty any more!

"I'll take it home and show it to my family and friends."

Born in 1917, Thomas joined the Army in 1935 where he served in the Royal Tank Regiment and during World War II was posted in Egypt, Palestine and Iraq.

In 1946, he left the Army and four years later joined Warrington Fire Brigade, transferring to Liverpool Fire Brigade – which became Merseyside Fire & Rescue Service - shortly afterwards.

During his time with the brigade, he worked at a number of stations including Long Moor Lane and Hatton Garden.

He eventually left the brigade for a job on the docks.

Tom has a daughter, a granddaughter, three great-grandchildren and two great-great-grandchildren. One of his family is following in his footsteps and embarking on a military career.

Merseyside Fire & Rescue Service CFO, Phil Garrigan, said: "We thought it would be a fitting gesture to restore the axe for Thomas and surprise him with it.

"He enjoyed his visit with us and kept us entertained with his memories of the past. Thomas is an inspiration to us all."