A much-loved family pet who had been missing for over a week has been reunited with its owner after being rescued by firefighters – from a chimney breast.

Shadow the cat has lived with her owner in Bruce Crescent, Bromborough, since January after being adopted from the Cats Protection League.

Her life had been that of any normal feline – plenty of sleep, treats and cuddles from her doting owner - but on Wednesday 17th July, Shadow made some new friends in the form of Merseyside Fire & Rescue Service.

Firefighters were called to Shadow's home at around 9.30am – at this point she had been missing for almost nine days. Her owners had previously thought they could hear meowing from inside the house but dismissed it as imagination.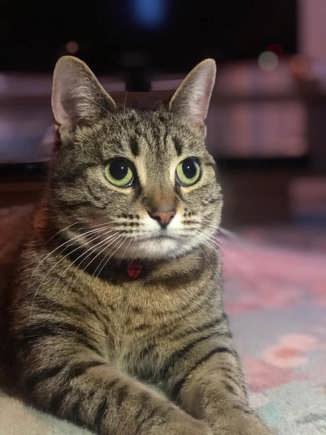 Julie Hartley, the daughter of Shadow's owner, explained: "When my daughter visited her nan, she could hear the meowing too. She rattled some treats and the meowing grew louder."

At this point, Shadow's family contacted Merseyside Fire & Rescue Service, with one fire engine from Bromborough Community Fire Station sent to the address.

Firefighters first checked the roof to see if they could see Shadow in the chimney but could not locate her. Undeterred, crews continued to search, using thermal imaging cameras to finally track Shadow down.


Watch Manager Tony Franklin said: "After some time the cat was located on top of the log burner's baffle plate. She had accessed this through an old boiler flue in the kitchen, which in turn had provided her access to the chimney breast."

Although located, Shadow's experience was far from over as she was too big to fit through the inspection covers that firefighters had removed. Crews used a halligan tool – used by firefighters to gain entry to properties in event of fire – to force the baffle plate, providing an escape route for Shadow.

Despite her ordeal, Shadow was unharmed in the incident – although a precautionary trip to the vets may be on the cards.

Julie said: "Mum was overwhelmed by the thoughtfulness and kindness crews showed towards both her and Shadow. Mum, and the whole family, is deeply grateful for all of the help and time taken to rescue Shadow. Mum would like the firefighters to know just how grateful she is – Shadow means so much to her."