Merseyside Fire & Rescue Service (MFRS) has been praised for its response to COVID-19 and the way it stepped up to support the community throughout the pandemic.
The recognition comes from Her Majesty's Inspectorate of Constabulary and Fire & Rescue Services (HMICFRS), who were commissioned by the Home Secretary to inspect how fire and rescue services across England responded to the crisis.
MFRS' Chief Fire Officer Phil Garrigan has expressed his delight that the Service has been held in such high regard by inspectors, whilst thanking staff for the work they have done throughout the last 12 months, with the Merseyside community at the heart of their work.
Inspectors said MFRS 'adapted and responded to the pandemic effectively', continuing to respond to calls from the public and attend emergencies whilst also taking on additional roles and responsibilities to support other blue light and public services that were experiencing high levels of demand.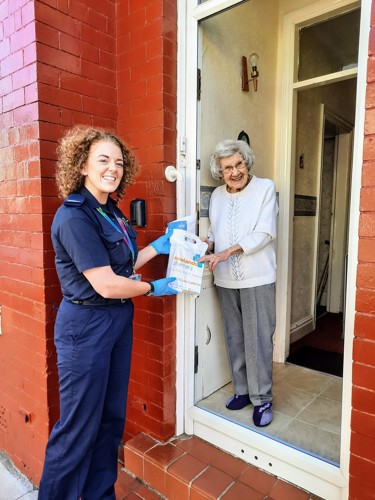 Since the pandemic's start, MFRS staff have worked alongside charities, local authorities and football clubs to deliver 4,102 prescriptions, 1,414 food parcels and 390 health and wellbeing parcels to the most vulnerable members of our community. In addition to the delivery of essential items, staff have also been carrying out 'face fitting' for North West Ambulance Service staff, Critical Care Workers and those working within care home settings to ensure that they are able to keep safe whilst they are looking after others.
Correct fitting PPE is essential to those staff who are on the frontline and MFRS volunteers have helped to fit 451 masks during the pandemic.
MFRS staff have also volunteered to assist local authorities with mass testing and will soon begin helping with mass vaccinations. An appeal for volunteers across the Service to help with COVID-19 vaccinations saw more than 300 people put themselves forward, with the first cohort of MFRS staff due to start their training to become vaccinators on Monday.
In addition to this, MFRS staff have also volunteered to help with morgue management where necessary and are currently in dialogue with the ambulance service to see how best staff can assist them during this unprecedented period of demand.
Staff of course continued their day-to-day operations, albeit through different means at times. Physical home fire safety checks were reduced to protect both staff and the community from risk of transmission, with only those deemed most at risk of fires in the home receiving an actual visit. Instead, more than 100,000 home safety and winter warmth leaflets were delivered to 25,000+ over 65s.
MFRS continued to engage with those responsible for fire safety in high risk premises, carrying out nearly 2,000 Fire Safety Audits in 2020 – half of which were carried out remotely as desktop assessments, in line with guidance from the National Fire Chiefs Council.
As well as recognising its local response, the inspection – carried out between 28th September and 9th October 2020 – also highlights MFRS' national work, with the Service and Chief Fire Officer having a leading role in the co-ordination of the fire sector's response to the pandemic.
Inspectors also praised the way MFRS communicated with its staff throughout the pandemic, including on issues of staff wellbeing, adding that 'a notable achievement is the extra contact and support it gave to its black, Asian and minority ethnic (BAME) workforce'.
This is the latest in a long line of praise for the Service, which was rated 'outstanding' by HMICFRS in their last full inspection, in recognition of its innovative and targeted prevention work. The Service has gone from strength to strength in recent years, evidenced by the results of its recent staff survey.
Chief Fire Officer Phil Garrigan said: "I have never been prouder to be Chief Fire Officer of this fantastic organisation. Our staff go above and beyond every single day – they rise to every challenge and take every opportunity presented to them to help keep our communities safe.
"The incredibly encouraging outcomes of this inspection are testament to the passion and dedication of our staff and the praise is rightly deserved and, combined with the overwhelmingly positive feedback in our staff survey this week, show that we have come together to do what we do best. This has been an extremely difficult time for everyone involved but hard times have brought us even closer.
"We have the right people at the right time and in the right place – we will get through this and come out the other side stronger, and we will take everyone in Merseyside with us."