Merseyside Fire & Rescue Service (MFRS) is urging the public to be particularly careful during the current hot weather after an increase in the number of grass fires.

Already this year MFRS has attended a large number of grass fires, many of which are believed to have been caused as a result of careless actions, including the improper use of barbecues and camp fires left unattended.

A large fire in Formby Pinewoods on Wednesday caused extensive damage to an area approximately 150m x 150m. It came just days after a similar fire in Ainsdale Pinewoods, which had been caused by an unattended campfire, and weeks after a large fire on Ainsdale Beach's sand dunes.

There have also been smaller fires across Merseyside, including on Bidston Hill in Wirral, Crosby beach's sand dunes and Bold Moss in St Helens. All of these fires had the potential to spread quickly had they not been spotted by passers-by.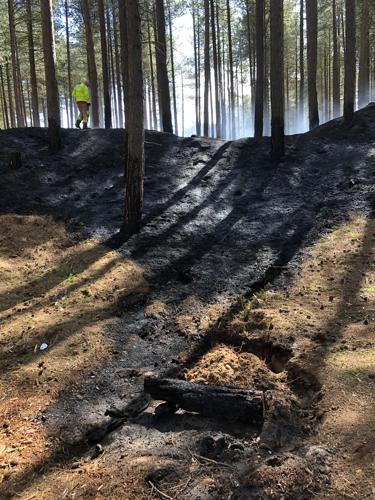 MFRS has seen a rise in incidents involving grass and trees in recent weeks as changes in the Government's coronavirus guidance has seen people flock to our local beauty spots.

Whilst a number of these fires are believed to have started accidentally as a result of careless behaviour, others are believed to have been started deliberately. In these instances, MFRS is urging parents to discuss the very serious consequences of arson with their children.

In addition to this, there are a number of ways people can reduce the risk of grassland and woodland fires:

• Ensure cigarettes are extinguished correctly and cannot reignite.
• Do not throw cigarette ends on the ground or out of car windows
• Take your litter home with you
• Don't leave bottles or glass in woodland – sunlight shining through glass can start fires (take them home and recycle them)
• Do not light fires or barbecues in open countryside or woodland – only use barbecues in a suitable and safe area and NEVER leave them unattended. Remember, barbecues are not allowed on beaches.
• If you see a fire, report it to the fire and rescue service immediately by calling 999 and give the nearest main road that the fire appliance can access. Apps like What3Words can help to give a more accurate location.
• Don't attempt to tackle fires yourself – leave the area as quickly as possible.

MFRS will be working closely with partner agencies this weekend, with Street Intervention Teams set to be deployed in Sefton to engage and educate people to make the public and community safer.

Station Manager Lauren Woodward said: "We understand that people want to enjoy the current spell of nice weather, but this needs to be done in a way that doesn't create risks of fire. We have seen a significant increase in our attendance to grass fires in recent weeks. Not only do they cause extensive damage to our natural environment and public amenities, but they also take crews away from dealing with other potentially life-threatening incidents.

"We would urge the public to be especially careful in the hot weather and make sure they dispose of their rubbish, cigarettes and barbecues safely. People should not be lighting fires or barbecues in woodland, on our beaches or in open countryside and they definitely should not be leaving these fires unattended.

"We would also like to remind people, particularly parents, that deliberately setting a fire is arson. Deliberate fires and investigated. Merseyside Fire & Rescue Service's Arson Team will be working with Merseyside Police, Local Authorities and other partner agencies to identify offenders. Please speak to your children about the very real consequences of arson for them and others."

For free fire safety advice, or if you do not have working smoke alarms, please call 0800 731 5958.