More than 80 staff from Merseyside Fire & Rescue Service took part in a major incident training exercise aboard the Royal Fleet Auxiliary vessel RFA Fort Austin, yesterday – the first for 18 months due to coronavirus.
Part of an initiative with Cammell Laird, the training exercise put 10 fire and rescue teams through their paces with two different emergency scenarios - both set on the 23,384-tonne vessel which is berthed at Cammell Laird's facility in Bidston, Wirral.
The first scenario involved a fire in the galley and resulted in the successful recovery of two missing people and full evacuation of the ship. The second scenario, which was put into action as the first unfolded, involved a fall in the engine room and a patient with a broken leg. The emergency team treated and recovered the patient from the lower confines of the engine room to the shore.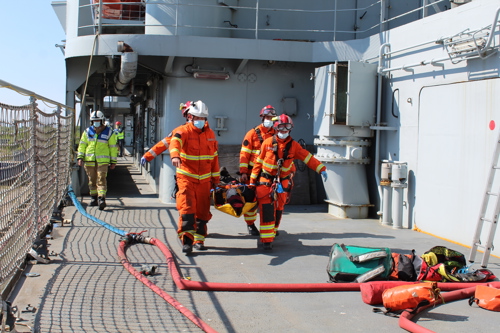 RFA Austin is currently docked at Bidston Repair Berth (formerly Ilchester Wharf) as part of Cammell Laird's 10-year contract to maintain nine vessels in the RFA flotilla.
Spanning 24 metres at its widest point and including more than 12 flights of stairs (from the lower hold to the bridge), 11 decks and two flight decks, RFA Austin is a complex and sizeable vessel and the perfect location for major incident refresher training.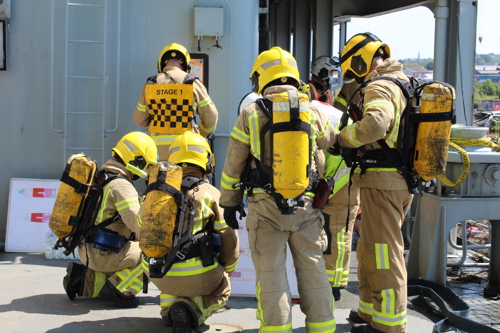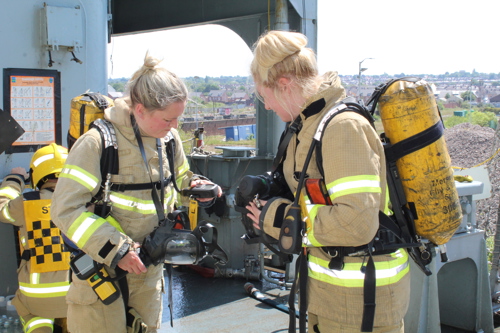 MFRS Operational Training Manager, GM Barry Moore said: "The exercise aboard RFA Fort Austin was a great success and a fantastic opportunity to test our response to the kind of marine emergency scenarios we could face in Merseyside.
"The vessel was ideal for this exercise, which is a great example of our ongoing collaboration with Cammell Laird around emergency response.
"The exercise involved multiple complex rescues undertaken in confined spaces at different locations on board the ship. Crews used breathing apparatus to locate the missing persons along with the set-up of rope access equipment to lift the fall 'casualty' prior to a ship to shore transfer.
"Due to the pandemic and to support the safety of our staff we have been unable to carry out any large-scale training exercises for around 18 months, so it was great to be back!"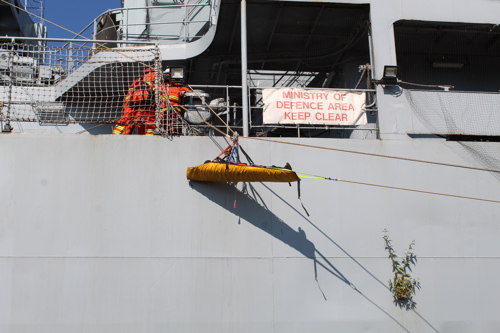 Stephen Gibney, HSEQ director at Cammell Laird Shiprepairers & Shipbuilders Limited said: "At Cammell Laird we are committed to the continuous improvement of our existing systems, processes and practices. As part of this, Cammell Laird is working with MFRS to develop both organisations' emergency response capability and knowledge."
Cammell Laird's HSEQ Manager Willian New co-ordinated this event, as well as a number of other joint development exercises with MFRS. Merseyside Fire & Rescue Service's Training and Development Academy also provides annual fire watch and fire marshalling training to Cammell Laird's Birkenhead-based team.