Merseyside Fire & Rescue Service (MFRS) is delighted to receive a special tree from The Queen's Green Canopy (QGC) "Tree of Trees", which stood tall as a message of hope, regeneration and optimism to the nation and the world as part of the late Queen's Platinum Jubilee celebrations in June.
MFRS is one of 300 organisations from across the UK recently announced by the QGC as recipients of these special trees in The Queen's name. The trees are gifted in a pot embossed with Her Majesty's cypher.
Presented by Lord Lieutenant Mark Blundell, the tree was planted at St Helens Community Fire Station on 21st October – the first anniversary of the station's official opening.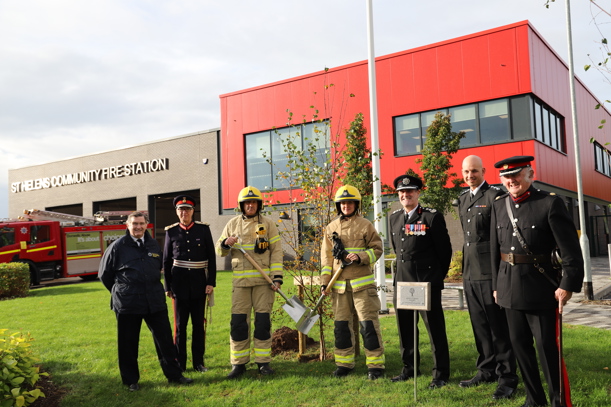 The tree becomes part of the living legacy in honour of Her Majesty, joining over a million trees already planted across the UK as part of the Queen's Green Canopy - one of which is already situated at St Helens and was planted during the opening ceremony last year.
Recipients of the trees include emergency services, charities, community groups and other public organisations. The gift of a tree is a 'thank you' for all the valuable and tireless work that volunteers and individuals undertake for the benefit of their communities.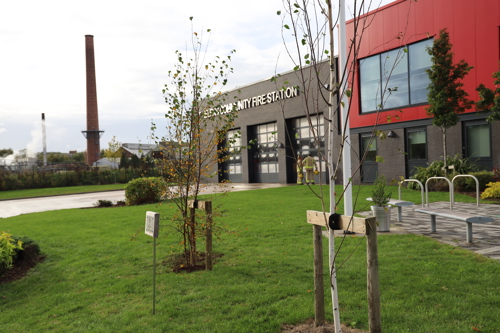 Chief Fire Officer Phil Garrigan said: "We are delighted to be chosen as one of the eight organisations across Merseyside to receive this gift in loving memory of Her Majesty The Queen - it is a real honour to be a part of her legacy. The tree will take pride of place at the front of St Helens Community Fire Station and we know it will be cherished for years to come by both the staff working there and the community members who visit.
"At Merseyside Fire & Rescue Service, we are proud to put our communities first. Receiving this special tree from the Queen's Green Canopy is testament to the true community spirit and dedication that our firefighters, control room staff, prevention teams, protection officers and those staff working tirelessly behind the scenes embody at Merseyside Fire & Rescue Service – something that I am incredibly proud of – their courage, compassion and integrity shines through every day."
Since becoming operational in 2020, firefighters at St Helens Community Fire Station have responded to 3,389 incidents, including 1,096 deliberate secondary fires, 125 accidental dwelling fires, 144 road traffic collisions, 18 animal rescues, 34 flooding incidents and have assisted other agencies 200 times. Crews have also completed 3,401 home fire safety checks – 1,726 of which were for residents over the age of 65 – as well as 279 Site Specific Risk Information visits and 171 Simple Operational Fire Safety Assessments*.
NOTES
*Incident figures are from 1st November 2020 – 30th September 2022
The Queen's Green Canopy (QGC) is a UK-wide tree planting initiative created to mark Her Majesty's Platinum Jubilee. The QGC initiative has been extended to the end of the planting season in March 2023, to give people an opportunity to plant trees to honour Her Majesty.

Designed by Thomas Heatherwick, the QGC "Tree of Trees" sculpture sought to put the importance of trees at the heart of this historic milestone to celebrate Her Majesty, who planted over 1,500 trees all over the world throughout her 70-year reign.

During the summer, the trees were cared for by Barcham's Nursery ahead of distribution at the start of the planting season in October.

The trees will be gifted evenly across the UK in proportion to the population, with each county receiving at least one tree. The Lord Lieutenants of each county, who are His Majesty The King's representatives, have been championing the QGC locally and have selected the recipients of the special trees.

The Queen's Green Canopy is a not-for-profit initiative. For more information please visit: queensgreencanopy.org